Sindh government bared employers from laying off workers
Sindh government issued notification of paid leaves for workers
PPP government in Sindh has issued notification of paid leaves for workers during the lockdown today March 23. The Additional Chief Secretary Sindh (home) Dr. Muhammad Usman issued the notification in this regard. No worker will be laid off during the lockdown and employers will paid the salaries to workers of this period. The notification has been issued under section 3(1) of the Sindh Epidemic Disease Act 2014.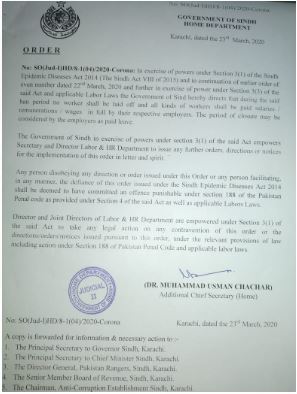 The notification said that in case the orders were not obeyed, the employers will be held guilty on account of the breach of section 188 of the Pakistan Penal Code.
Sindh government imposed 14 days long lockdown in the province to contain the spread of coronavirus (COVID-19) epidemic. All shops with few exceptions-malls-workplaces and markets have been closed down. The people's movement has been curtailed and public transport stopped running.
Sindh government once again set the precedent for others to follow. Sindh government is leading the fight against coronavirus. This decision was taken to provide much needed relief to workers. The trade unions and labour organisations were demanding the paid leaves for all workers during the lockdown.
Sindh government will pay to all workers whether they work in factories or any other workplace. Now this should be implemented with letter and spirit. This decision will help the workers affected by the lockdown and they will be able to feed their families.
The other governments in three provinces-GB-AJK and federal should also adopt the same policy. They need to take measures to provide relief to affected workers-self-employed and daily wage labourers.
Federal government announced Rs3,000 per month for daily wage labourers which too small and they cannot feed their families with this meager amount. They should be paid minimum wage so they can survive in these difficult times.